Many members of the Zen Center attended the Women's March on Washington. With the banner designed by Jim Tiebout and the Abbot (Zen Women for Democracy), a group marched in DC; a group also took the banner to Austin where they were joined by other Zen practitioners. And many members marched in Houston. Everyone reports the event was inspiring and deeply moving.
Audrey Charlton on the far right holds the banner with some of the many Zen practitioners who joined the march
Roommates in DC: SFZC President Linda Galijan, Zen Teacher Joan Hoeberichts of Heart Circle Sangha in Ridgefield, NJ, Abbot Godwin, SFZC Central Abbess Linda Ruth Cutts
Mary Carol Edwards meditating at the Austin March
The abbot received this button from a marcher on the plane to DC
the 3 organizers of the Zen contingent to DC: Inryu Ponce-Barger, Abbot Gaelyn Godwin, Grace Schireson, left to right.
a friend who joined our calm Zen group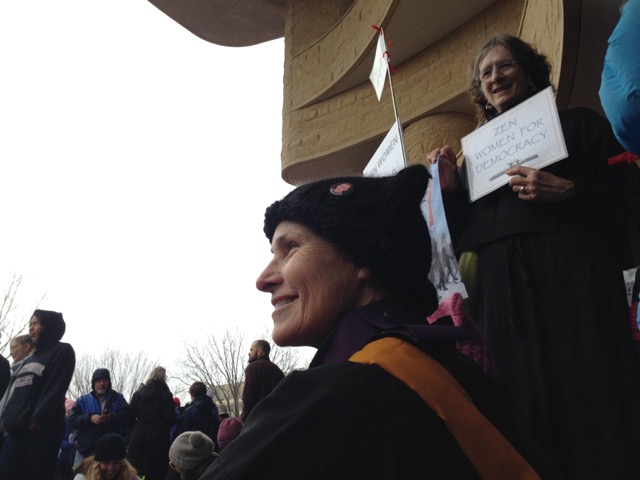 The members of the January Intensive led by Tenshin Roshi (including HZC member Maité Leal) marched from Green Gulch to the beach on the day of the March